Roofing Services Provided
Here's an in depth look at the services we provide. Outside of the actual services we provide regarding roofing we give to our customers things like, free quotations, late night and early morning appointments. Not to mention the fact we use only the finest tools and materials when we work. Furthermore we're not a colleague of yours, we're your employees. This means if humanly possible our work will match the exact specifications you put out to us.
Regarding roofing here's a list of actual services you can employ our team to carry out;
Flat Roof & Pitched Roof Repairs

New Flat & Pitched Roof Construction

Reconstruction For Both Pitched & Flat Roofs

Flashings & Lead Work

Roofing Extensions

Slate & Tile Roof Repairs

Leak Repairs

Roof Cleaning

Re-pointing, Repairs & Chimney Removal

Window Installation

Insulation For Lofts

Guttering Repairs & Replacement

Cladding, Soffit, & Fascia Repairs & Replacement

Emergency Roofing Repairs

Loft Conversions

Garage Conversions / Extentions

Free No Obligation Quotes & Consultations
Builders & Roofers Of Bournemouth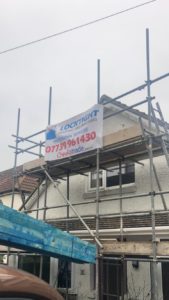 Can't see the service you require in this list? Don't fret, we might've used different terminology to describe the work you're after. Or we could've made a mistake and missed out some of the services we are able to perform. This could be a possibility due to the wide range of tailor made, comprehensive services we're able to provide for our customers. So don't give up if you don't see the service you need listed, just give us a call and we'll be able to give you quick and straight to the point answers without you having to listen to sales pitches about how our services can change your life. 
When you call us you won't be talking to our sales team, or a receptionist. You'll be put through to our professional roofers. Furthermore if we can't take your call or miss your call for whatever reason don't be scared to leave a message and some contact details and we'll get back to you at the next. appropriate times. We don't just work for you but we can work around you also and will never rush you into any decisions. Call today and speak to the professionals now!
Roofing, Bournemouth, roof repair, tiles, replacement ridge tiles, gable ends. All your roofing needs catered for.